A Disease in the Public Mind by Thomas Fleming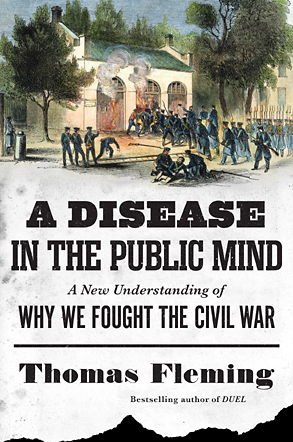 A Disease in the Public Mind
A New Understanding of
Why We Fought the Civil War





By the time John Brown hung from the gallows for his crimes at Harper's Ferry, Northern abolitionists had made him a "holy martyr" in their campaign against Southern slave owners.
This Northern hatred for Southerners long predated their objections to slavery. They were convinced that New England, whose spokesmen had begun the American Revolution, should have been the leader of the new nation. Instead, they had been displaced by Southern "slavocrats" like Thomas Jefferson.
This malevolent envy exacerbated the South's greatest fear: a race war. Jefferson's cry, "We are truly to be pitied," summed up their dread. For decades, extremists in both regions flung insults and threats, creating intractable enmities.
By 1861, only a civil war that would kill a million men could save the Union.
Praise for A Disease in the Public Mind

"Lincoln would have liked this brilliant book. It lights a path through history to his great goal: an America united by understanding and forgiveness."
—Charles Bracelen Flood, author of 1864: Lincoln at the Gates of History

"In A Disease in the Public Mind, Thomas Fleming sets one to thinking, as all good books should do. A master story-teller and a wise and eloquent wordsmith, he has produced a disturbing chronicle of the national malady that led to fatal division. I've long believed that the Civil War was an unavoidable, even necessary, conflict. Fleming has forced me to wonder."
—Robert Cowley, historian and founding editor of the award-winning MHQ: The Quarterly Journal of Military History

"At last! A book that explains, in clear, fast-paced prose, why, how and how early the cancer of slavery metastasized, resisting all attempts at eradication until it poisoned the minds of Americans, North and South, causing the needless deaths of nearly one million men in the nation's deadliest war."
—Willard Sterne Randall, Founding Fathers biographer and presidential historian

"The prolific Fleming, for decades a fixture among American historians, pinpoints public opinion as the proximate origin of the war…Making a plausible presentation of antebellum attitudes and illusions, Fleming is sure to spark lively discussion about the Civil War."
—Booklist

"A great deal of fine scholarship...Mr. Fleming more than supports his arguments...Well-researched and well-written...[A] superbly revisionist book."
—Wall Street Journal

"Thoughtful and provocative...The prewar arc of divisive national self-destruction he describes looks eerily, unhappily familiar today."
—American History

"For a different take on the Civil War and for those of us with a contrarian mindset, Thomas Fleming is a delightful and provocative historian."
—Washington Times

"It comes...as a welcome relief when a historian of the stature of Thomas Fleming takes it upon himself to set the record straight about the complex, irresistible causes of the Civil War...Well-researched and well-documented...[A] splendid story."
—The Weekly Standard



An Excerpt from A Disease in the Public Mind by Thomas Fleming

On April 18, 1861, Colonel Robeft E. Lee rode across the "long bridge" that linked Virginia to Washington and tied his horse in front of Montgomery Blair's house on Pennsylvania Avenue, opposite the building containing the State War and Navy Departments. It was an appropriate setting for one of the most crucial conversations in American history.

Waiting for him was balding seventy year old Francis Preston Blair. There is no record of the exact words, but we know that Blair, after the usual courtesies, grew solemn and told Lee that he had been authorized by President Lincoln to offer him command of the Northern Army that would assemble when the 75,000 volunteers reached Washington.

Here was a moment when history's direction hung on the loyalties and beliefs and emotions of a single man. If Robert E. Lee had accepted this offer, there is at least a possibility that Virginia would have refused to secede. Even if she seceded, Lee's prestige as a soldier, his links through his father and his wife to George Washington, would have had an enormous impact on the legitimacy of the South's resistance. Northern newspapers would have trumpeted the significance of his decision. Deep divisive doubts would have been implanted in the souls of thousands of wavering southern Unionists, especially in Virginia. The duration of the war, its very nature, would have changed.

As Colonel Lee sat there, trying to absorb this astounding offer, what did he think and feel? What did he remember? From what we have seen of his life in this book, almost certainly the first memory was John Brown. That madman's rant about sin of slavery and the blood that was required to wash it away, the pikes he had been prepared to put into the hands of enraged slaves, pikes that might have been thrust into the bodies of Lee's daughters and wife, the letters in Brown's carpetbag linking him to wealthy northern backers. Could he invade Virginia or any southern state at the head of an army composed of men who believed John Brown was as divine as Jesus Christ?